Fresh Food
Martellis Market
Next to George's Fine Meats
Bolognese Arancini Recipe
Maria from Martelli's Market shares the Martelli's Bolognese Arancini recipe. This recipe makes about 12 to 16, depending on size.
RISOTTO:
3 tbsp extra virgin olive oil
2 cups (15 oz) Arborio rice (the best rice to use is carnaroli)
4 oz white wine
Approximately 30 oz chicken stock
Salt
150g grated Parmesan cheese (add more if you like it extra cheesy)
FILLING
4 oz mozzarella, cut into 1/2" to 3/4" cubes
Bolognese sauce (must be thick and quite dry)
COATING
all-purpose flour
2 eggs, beaten
breadcrumbs
METHOD
Make the risotto by adding the rice to the heated oil in a large saute pan, and stirring quickly for one or two minutes. Quickly add the white wine while stirring. With the heat on medium high, begin adding the chicken stock a little at a time, and continuously stirring, until all the stock has been used and the rice is cooked. Taste, adding salt if necessary. Remove from heat and set aside to cool. Add an egg, Parmesan cheese to the risotto and mix well.
To make the arancini
Place some rice in your hand and flatten it into your cupped hand, but don't make it too thin, or the filling will ooze out.
Place a piece of mozzarella, and/or a little bolognese tomato sauce, in the centre of the cupped rice
Next, close the rice around the filling and shape into a ball.
Now, roll the shaped arancini in flour.
Then, roll them in the beaten egg.
Finally, roll in the breadcrumbs.
Set aside until all of the rice has been used.
Fry the Arancini
Heat some oil in a deep fryer, pot, until it is very hot.
Add the arancini, and cook quickly, turning often so they don't brown too much on one side.
Here's one to try if you're up for some cooking, otherwise purchase a freshly made patch for $15.00.
Magiare!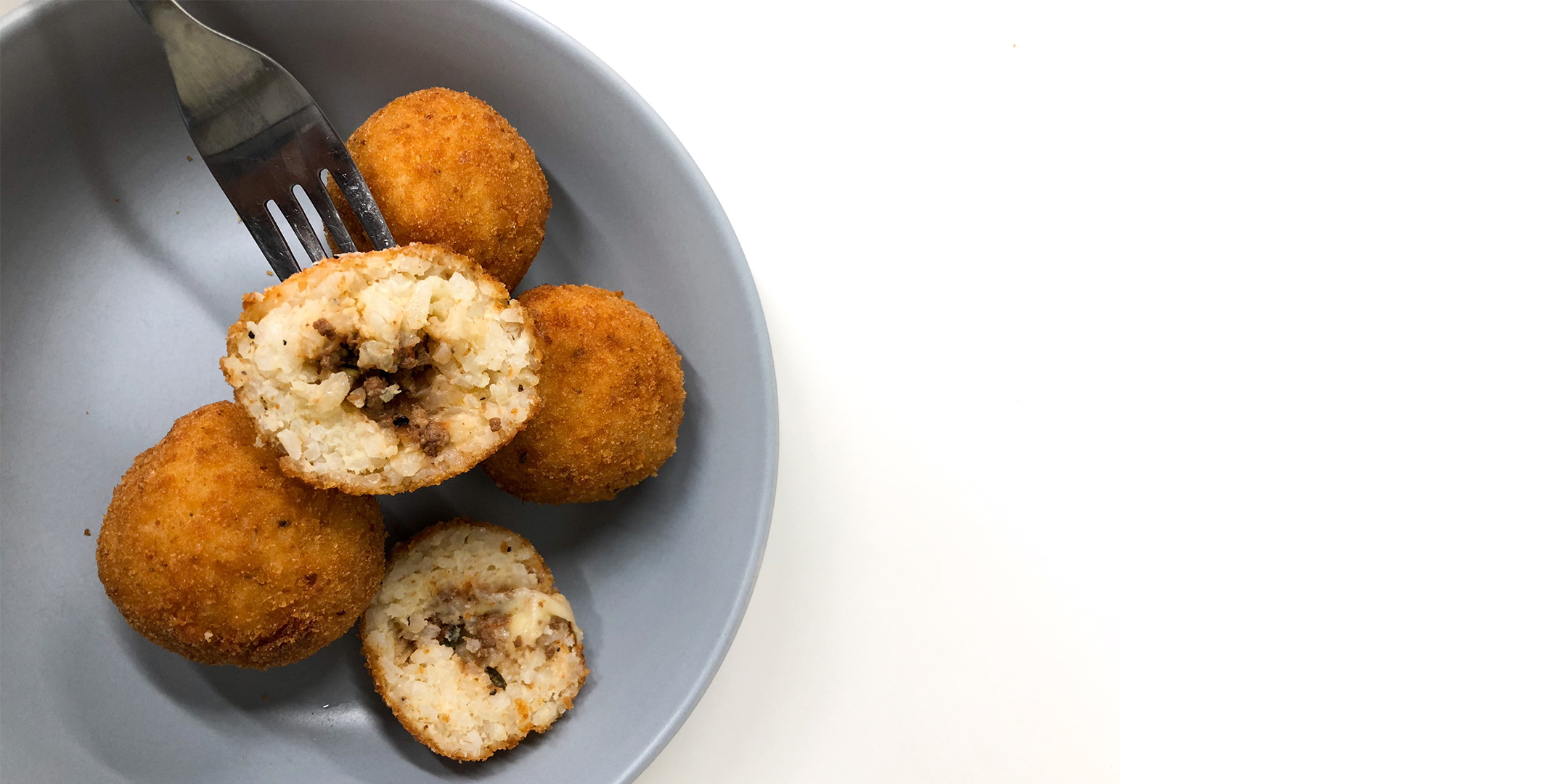 INSPIRATION
Check this out