Fresh Food
Martelli's Market
Trading at Cherrybrook Village since 1987, Martelli's Fruit Market provides their customers with the highest quality in fresh produce and customer service. More than just spectacular fruit and vegetables, Martelli's also carries a great range of prepared meals and a wide range of cheeses and condiments.
Ask to try Mrs Martelli's homemade jams and chutneys.
Fruit & cheese platters - Beautifully arranged platters with an assortment of fruit, cheeses and crackers. Made to order with a large range of sizes and prices to suit everyone's budget.
Gift baskets - made to order fruit baskets are the perfect way to say thank you, welcome, happy birthday or just surprise someone special.
Gift vouchers - Martelli's gift vouchers are a great gift idea.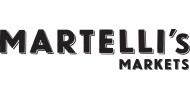 Martellis Fruit Market Trading Hours
MONDAY - WEDNESDAY
8:00AM - 7:00PM
THURSDAY
8:00AM - 9:00PM
FRIDAY
8:00AM - 7:00PM
SATURDAY
8:00AM - 6:00PM
SUNDAY
8:00AM - 6:00PM